How I Survived My Summer Vacation*
*And Lived to Write the Story
Front Street - Cricket Books | June 2000 | Middle-Grade Novel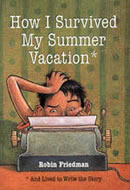 "It wasn't the first time I found a severed head in my trash can. But it was the first time I recognized it."
Inspiration
This was the first book I ever sold, but it was the third novel I wrote. My inspiration came from a contest in which writers were asked to submit their best opening line for a novel. More inspiration came from my husband, Joel, who told me hilarious stories about his childhood in Matawan, New Jersey; being on a swim team, tolerating a mean coach, exploring a sewer pipe, painting an old car.
All this inspiration coagulated into the story of a 13-year-old boy who wants to write a novel while fending off the stupidity of his friends. Or is stupidity exactly what his writing is missing?
This novel was rejected by four editors. The fifth sent me a two-page letter with suggestions for revision. A month after I revised it, she called and said the words every writer longs to hear, "I love your revision. I'd like to offer you a contract."
This novel is now in its third printing. It was also translated into German and excerpted in a Thomson-Heinle language arts textbook.
Summary
Thirteen-year-old Jackie Monterey wants to write the Great American Novel, but there's just one problem - he can't get past the first sentence.
His friends are no help; Nick is constantly dealing with his fear of dogs; Mallory is a theme-park nut; and Garus is obsessed with perfecting his new English accent. Jackie looks for inspiration on the swim team - and falls in love with his mean coach's daughter.
Things start to get really weird when Nick hooks up with a dog-crazy girlfriend and Mallory begins reciting poetry with a goon from the rival swim team.
Where does Jackie go from here? Will he ever write anything?
Reviews
"Friedman's book is humorous, and the characters are likable... the story is good, and Jackie's thoughts while trying to write are funny. A good choice for aspiring writers."

— The Book Report
"Cleverly drawn characters use convincing dialogue. . .and the plot is loaded with humor. . .the book is an amusing light read that makes some good points about honesty, understanding others, and friendship."
— Voice of Youth Advocates
"In the first person narrative, we are presented with an engaging and at times hilarious summer story, that ultimately, and to his own surprise, ends up being Jackie's real life, filled with adventures, mishaps and lessons learned. This is a book about friendships, how they change and mature. Most refreshing are the multi-dimensional, authentic adolescent characters. . .Filled with laughs, this book will appeal to young teens and most likely any adult who by chance picks it up!"

— Children's Literature Review
"Jackie's tantalizing first lines introduce each chapter, while his witty, fast-paced narrative relates the silly and serious episodes. . . the exaggerated characters and broad humor have a cinematic quality. Like an old 1950s comedy, this first novel is. . . entertaining summer reading."
— Booklist
"Friedman's comic timing along with her insights are what readers will remember."

— Publishers Weekly
"The dialogue is funny. . . Jackie's summer winds up being amusing. . . which is also a good way to sum up this book."
— Bulletin of the Center for Children's Books
"The humor and sensibility ring so true, it's hard to believe this was written by a woman, and not a 13-year-old geek."

— The Atlanta Constitution
"This hilarious novel for young readers ages 12 and up revolves around adolescent writer's block and the distractions of summer. 'How I Survived My Summer Vacation: And Lived To Write The Story' is a unique, totally engaging, thoroughly entertaining, superbly written novel that will prove an instant favorite for any kid who has ever aspired to write a story of his or her own!"
— Children's Book Watch
"I loved this book, it made me laugh; I finished it in one day. Ms. Friedman is a former editor and now freelance writer, who not only makes a book full of great characters and crazy (yet believable) events, but also manages to sneak some excellent writing tips in. I think every aspiring young writer should read this book. It will not only help you to see that others go through the same things you do, but will offer some great advice on becoming a writer. But hey, you don't have to want to be a writer to be able to appreciate this book. Jackie's everyday life will appeal to you no matter what your career goals are. If you are looking for a book that will appeal to pre-teens who are struggling with changing bodies and lives, girlfriends and boyfriends, strange parents and the world in general, you just found the book. Ms. Friedman makes the plight of the 13-year-old real - and funny.

— Reading Corner
"Amusing, entertaining."
— School Library Journal
"It's a fun slice of life."

—Detroit Free Press