Nothing
Flux/Llewellyn Worldwide |
August 2008

| Teen Novel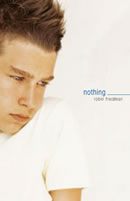 ALA Popular Paperback for Young Adults 2010.
A 2009 Notable Book for Teens
by The Sydney Taylor
Book Award Committee of
the Association of Jewish Libraries.
A Bronze Medal in Young Adult Fiction by
ForeWord Magazine 2008.
Hall of Fame and Gold Star Award for Excellence by TeensReadToo.com.
Inspiration
I met an old friend from college years after we graduated, and he mentioned in passing that he had an eating disorder when we knew each other.
"An eating disorder?" I said.
"I didn't know that."

"Nobody did."

"But you're a guy!"

"So?"

"Guys get eating disorders?"

"Yup."
That's all it took.
Summary
Parker Rabinowitz isn't your typical Jewish teen.
Well, he's a smart rich kid from the Jersey 'burbs, on his way to med school, overscheduled, overloaded, and living in a pressure-cooker, like everyone else.
But Parker looks different, feels different, and, lately, his behavior has been very different.


Reviews
"I feel this is a book teens would love to read because it has a great flow. This YA novel reads almost like a journal, flipping between the two main character's: Parker and his sister Danielle. Older readers may look back on their life and find that maybe they wish to go back in time and be more active in their teen years, I know I do! Robin, either purposefully or unknowingly, included education on eating disorders throughout the story. She informs that you don't have to suffer the disorder alone, and that you can get help. The ending was refreshingly uplifting, sad and unexpected all at equal levels. If there was one book I could recommend to teenagers with (eating) disorders it would be Nothing."

"Written alternatively in verse and following-consciousness, this novel is a quick read with a suspenseful and well-written storyline. Friedman addresses the uncommon, often overlooked disease of male bulimia, something that often goes undiagnosed as a disease exclusive to women. As a senior in a high-achieving high school who is applying to competitive colleges, I can understand the pressures the main character faces."
"It is a rare occurrence for me to read a book all the way through in one sitting, yet that is exactly what happened with NOTHING. I could not put it down… It is a story that is human, touching, and real… The free verse in particular adds a sense of beauty and melancholy… NOTHING grabs you from page one, draws you into the lives of these characters, and does not let go, culminating in a finale that is as satisfying as it is hopeful. It is a beautiful book."
—TeensReadToo, Hall of Fame, Gold Star Award for Excellence

"Compelling reading."

—School Library Journal


"Teenagers. College. Hooking up. Girlfriends. Teen tzedakah projects. Youth group. AP classes. Sisters. Best friends. College consultants. Getting into college. Newspapers. Poetry. Temple life. The Jewish National Fund. Parties. Senior sex symbols. Minyan. Breast cancer. Secrets. Bulimia. Big Brothers Big Sisters. Make-A-Wish Foundation. Key Club. National Honor Society. Student council. Peer pressure. Parent pressure. Life pressure. Life. This is high school; this is NOTHING. NOTHING has got to be one of the best books I've ever read. I literally couldn't put this book down!"

"[T]ouching and very in tune with the social, family and inner expectations teenagers deal with on a daily basis."

—American Jewish World


"Friedman brings strong characters to a fascinating format of alternating straight prose and free verse… A well-told story that will resonate with teen readers in today's overwhelming and fast-paced society."

"There is a constant link between the book's title and Parker's story. Basically, 'nothing' is what he withers away to and what he says to cover up what's really bothering him. People with bulimia are ashamed and often deny that what they are doing is a problem… What I learned from this book is that you have to follow your heart. Parker didn't."

—Rachel's Reviews for Kids, New Jersey Jewish News


"[T]ouching, tear-jerking and a quick read."
—Sydney Star Observer

"How many boys and men suffer from bulimia? Rarely do books, movies, or TV series depict male characters suffering from eating disorders. NOTHING by Robin Friedman, the fictional story of a teenager named Parker, handles the subject of male eating disorders sensitively and realistically."

—Guys Lit Wire
"Ten percent of all reported cases of anorexia and bulimia are men. This is a deeply moving story about one of the lucky ones."

"This story is a gripping portrayal of a life spiraling out of control… As the countdown crept down to zero, I found myself racing through the pages to find out what was going to happen. Robin Friedman has created characters that I really cared about... I have to confess that I stayed up until 2am because I couldn't put the book down..."



"Brava to Robin for writing this important and powerful book."

"Friedman manages to make both characters well-rounded and distinct, and the book doesn't read like an encyclopedia entry on eating disorders... I know teens who read about eating disorders will often read every eating disorder book they can get their hands on, and this is definitely one to give them."
"This poignant character study features a teen trying to hide his eating disorder while maintaining the façade that sometimes comes along with being one of the most popular guys in school."
— Teenspace at The Public Library
of Cincinnati and Hamilton County

"NOTHING shows how Friedman has the ability to easily crossover into another, more serious topic without losing her voice -- particularly her ability to peer into the human soul and discover what's uniquely compelling about each individual."

— Tom Davis, THE HUFFINGTON POST
"A quiet, lyric look at the price of perfection. Parker Rabinowitz 'doesn't look Jewish' and lives his life with two goals: getting into Princeton and making his father happy... Added to the pressure is the tension of Jewish cultural identity: There's no need to keep Kosher, but dating non-Jews is frowned upon... Parker's negative body image and need for control will be familiar to teen readers, but the callous dismissal of his few attempts to discuss his worries says worlds about social expectations for teen boys... A fast, well-written read...moving."
— Kirkus Reviews

"On the outside, Parker seems to have everything going for him: he's wealthy, he's attractive, he's a track star, he's a journalist, he's active in his community, and he's a good student. However, Parker doesn't like everything that he's doing, and he doesn't like how he looks on the outside. He keeps his emotions locked up inside, where no one can see them… When the pressure (from his overbearing father, from his coaches, from his friends, from himself) gets to be too much, he turns to food… Danielle wishes she got a fraction of the attention Parker gets from their family and classmates. At first, she does not realize that that very attention has pushed Parker to hurt himself. Then, though Parker tries his best to hide what he's doing, Danielle begins to suspect something is wrong. She wonders if she should speak up, then wonders who will listen to her. As other matters at home complicate things, Danielle's narrative offers additional insight into Parker's character as well as their family life… It is completely possible for someone to be popular or well-liked and for that person to seem 'okay' when he or she is really anything but. I have known Parkers, both female or male, as teens or as adults, who have eating disorders or other habits that shocked those who thought they knew them well… Throughout NOTHING, Friedman treats the subject matter gently and compassionately. This novel is well-researched and will appeal to both genders, thanks largely to the dual narrative."
"Friedman does an excellent job of showing the insidious nature of eating disorders. Parker's interior monologue is filled with isolation, self loathing, and insecurity. Although everyone else sees him as highly successful, the reader learns the terrifying truth...

" The best part of this book is Danielle. Her honest narratives, written in effective delineated prose, are filled with love, fear, and envy. Her scant comments harness the vulnerability and fear we all have when dealing with this disease. It is through Danielle that the reader experiences the breakdown and salvation of this Jewish family. NOTHING offers a compelling discussion, recommended for readers 14 and up."
—Jewish Book World Magazine
"This exploration of an underserved topic opens an important conversation, and Parker emerges as an achingly sympathetic character."

—Bulletin of the Center for Children's Books